I expect to share with readers what is occurring internally with Shopify and how the company is changing its business over time.
Today's post is presented by Stratosphere:


Shopify is a company I've been following for a while, though I recently bought a share. I always learned a lot reading Shopify's ERs and call transcripts.
It helped me put in context many different features companies such as MercadoLibre and Stone were launching in LatAm.
Perhaps, what is funny is that I'm using a lot of knowledge from Meli and Stone to understand what Shopify is pursuing to build.
I expect to share with readers what is occurring internally with Shopify and how the company is changing its business over time.
First, I'd like to acknowledge that communication deteriorated a lot. I don't want to use this space to criticize Tobi, so, in short, I left my opinion on Twitter in reply to @JerryCap.
Second, the core business is preserved. I don't understand why a deceleration in GMV growth is surprising. As we'll see, GMV growth has been decelerating since 2017.
The Covid-19 outbreak was an extraordinary opportunity for Shopify to advance years in months, but growth would decelerate eventually.
Because of the Covid-19 outbreak, Shopify had to bring upfront a lot of different initiatives that, perhaps, the company was holding for a moment while the business was matured.
The consequence is that Shopify's capital structure will change over time. Even though that is not bad for the business, all multiples previously used to value the company are worthless.
For instance, how would you compare Shopify's sales multiple to Emerging SaaS providers if margins are different? Also, the gross profit multiple is worthless since most of Capex is expensed, so the operating margin is also different.
So, until investors find this new "multiple ranges" to sustain trading prices, the stock should be much more volatile.

Finally, you should have noticed this is the second time I post about a company not based in Latin America. The first time was about Amazon.
I usually keep this content stored in my Notion/Evernote, and it takes several hours to format, create charts, and double checking data.
Nevertheless, the Twitter engagement to my post about Amazon was exceptional, even though the response in terms of user growth was null.
If you enjoy this content, share it with friends and colleagues. I'll consider further posts about US/Canada companies only if there is enough evidence I should do so.

We believe the first fundamental transformation came when Shopify transformed from essentially being perceived as what's like an online store builder into being more of an omnichannel back-end platform.
In our opinion, Shopify's core business is offering the back-end engine behind your business in every aspect of your business.
After implementing omnichannel integrations, some merchants don't even have an online website. Still, they might be utilizing Shopify as a point of sale system ("POS"), for example, and they're just selling purely retail or brick-and-mortar ("B&M").
Other merchants might only be selling purely through Instagram Marketplace, and they're using Shopify for inventory synchronization and order management.
Shopify has already moved from version 1.0 to 2.0. The company isn't perceived as this front-end-focused platform, where it's a theme designer or an online website designer.
Shopify 2.0 has a holistic back-end tool for any business to manage every aspect of their commerce business, whether online or offline, across all platforms.
In the past years, in our opinion, probably the most significant milestones were the sales channel SDK and the checkout API. They said to customers, "look, we're agnostic about where you're selling your product."
Obviously, Shopify has always had its own App Store regarding a third-party App Store that developers can build on their APIs and publish applications. But it was only in the past couple of years that the company started to be perceived as agnostic.
Also, the company has been doing a good job capturing low-hanging fruits quickly in initiatives such as Shopify Capital, where Shopify offers an automated loan system personalized on each seller's business performance.
Then, obviously, have Shopify Balance (debit card), which is such a compelling offer if you rely on marketing your brand on Facebook or Google.
The next leg…
In our view, Shopify 3.0 is marketed by high-touch products, such as Shopify Fulfillment Network, and is more aggressive on the POS roll-out.
Just as MercadoLibre in LatAm, we believe that Shopify is taking a bit more of an intentional approach with how they can expand their ecosystem from a first-party standpoint as opposed to just a third-party viewpoint.
Even though investors are worried about the business model, we understand the recent moves as a huge de-risk for its business.
For instance, MercadoLibre is perceived as a marketplace business, even though its Fintech ops became increasingly relevant to the company and today is more significant than the marketplace itself.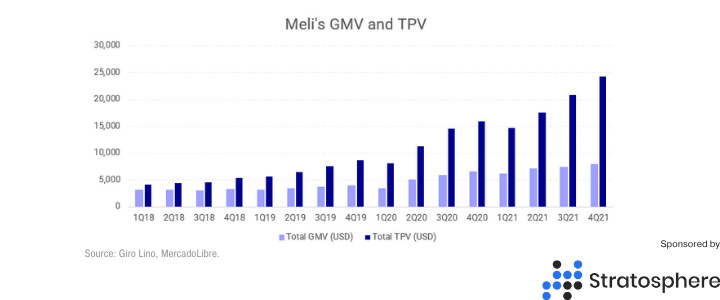 We believe Shopify is setting the ground and indicating to the market where they're heading in the next 10 years. We get particularly excited about owning the payment processing experience.
Based on our experience following Meli for years, we believe that Shop Pay is the most significant catalyst for growth. Everything else around it powers that specific part of the ecosystem as a network effect.
For instance, the partnership between Shopify and Stripe. Essentially white labeling Stripe as Shopify payments has put them in an incredibly advantageous position.
They can capture a lot of the value upfront whenever a merchant utilizes Shopify Payments as a payment gateway.
Shopify 3.0 will benefit from merchants' growth, even though they might not be using Shopify's front-end. As for Meli, we believe Shopify will benefit dramatically from sunk cost.
Too Soon For Conclusions
When we think about Shopify's competitive landscape, most people remember BigCommerce, Magento, WooCommerce, Squarespace, Demnadware, VTEX, etc.
We believe all these players definitely have their unique way of marketing and definitely unique way of products they offer.
The more significant thing about Shopify is it's basically an integration/app integration-based platform. So basically, it gives you the platform for anything to get to anything and everything.
Even though Shopify does portray itself as a small business e-commerce platform, it's got a Shopify Plus version to it, technically targeting the business's enterprise side.
B&M merchants learned this lesson two years ago when they were forced to close their doors almost overnight. As a result, tens of thousands of physical retailers pivoted quickly and moved online using Shopify.
Everyone from mom-and-pops to merchants with significant operations and considerable existing sales came fully online with Shopify, which, at the time, was the only sales channel that mattered.
Now that physical retail is reopening and retail, in general, is rebalancing, this more significant position Shopify has earned merchants represents a huge opportunity.
The hundreds of thousands of businesses that shifted to Shopify during the pandemic stayed with them since they can now take advantage of their robust retail POS offering for a unified view of their sales online and offline.
Shopify has been developing a POS retail software for years, and it's now at the point where all merchants who came to Shopify during the pandemic can leverage it.
As mentioned by the management in the 4Q21, the company is growing the sales team and marketing support to help ensure that any merchant doing in-person selling on Shopify knows how much stronger the Shopify POS value proposition is (the reviews are actually fantastic).
Probably this is the first significant change in Shopify's capital allocation that worries investors. The acquiring business is highly competitive, as we comment in previous posts.
To summarize, it's a distribution business, which the company has to hire a robust sales team and be willing to operate under cash burn for a couple of years, at least.
We wrote explicitly about Stone a couple of times. Still, there are significant products the company is trying to develop that Shopify already owns, such as the lending and balance features.
Even though we have an estimate about the CAC for merchants, we're not sharing it now because we still don't understand what sort of scale or markets Shopify will explore.
However, according to our conservative estimates, we believe the business could generate an incremental 50bps over Shopify's TPV, which should outpace the GMV due to the TPV-off platform growth.
Also, even with the current resurgence in offline retail, we still believe that e-commerce will continue to grow and take a share of overall retail over the long term.
Even though Shopify's GMV is decelerating, it's still growing above Amazon and gaining market share in the overall eCommerce space.
Management mentioned that "overall GMV, including offline, grew even faster at a 57% compound annual growth rate since Q1 2020, demonstrating that the opportunity for Shopify is beyond just online. It's the commerce platform of choice in any environment and on any surface".

We all spend countless hours finding financial data, manipulating it and struggle to locate everything in one place.
That is why Stratosphere made it easy to get the financial data you want and beautiful out of the box graphs for your research process.
No more complex user interfaces, no more limited historical data.
Get started for free today to utilize:
10 years of historical financial data & customizable views
Stock idea generation & snapshots
Company specific metrics
Beautiful data visualizations
Say hello to a powerful research platform with an easy to approach interface.
Start researching stocks with our free, powerful and highly customizable terminal.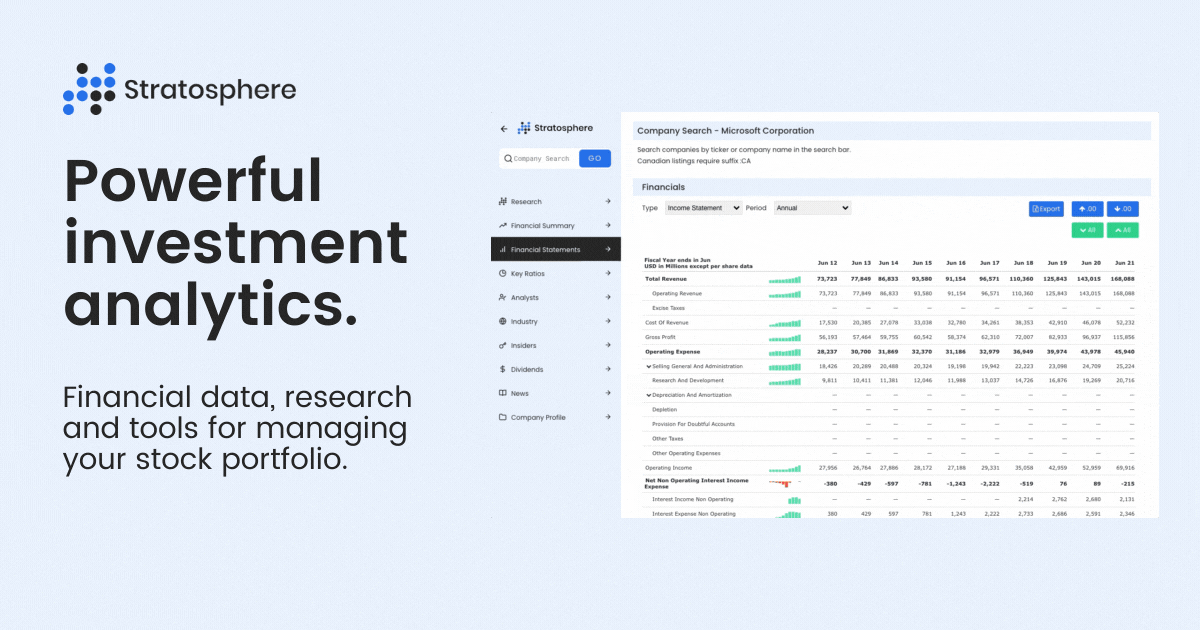 Then, we have the second pushback, regarding the continued investment in the Shopify Fulfillment Network ("SFN"), especially with the incremental costs from the pending acquisition of Deliverr (400 employees, $2.1 bn in cash (80%) and stock (20%)).
Even though we recognize that supply chain management and fulfillment are some of the most significant challenges merchants face running their businesses, the stock offering wasn't smart.
There was plenty of different financial engineering they could have offered to minimize the fact they're issuing after the stock is down 80%.
We deeply understand when Tobi says people at Shopify are driven to help customers, but that is not an excuse for diluting shareholders and making poor financial decisions.
About Deliverr, there is not much public info, so we rely on the management info:
So today, we're announcing the acquisition of Deliverr, our largest acquisition yet to strengthen Shopify's Fulfillment Network and accelerate our path to an end-to-end merchant supply chain solution.

Fulfilling more than 1 million orders per month, Deliverr's asset-light, technology-driven service is trusted by thousands of merchants across the U.S. to connect all stages of a merchant supply chain and manages distribution and fulfillment to all merchant channels.

…

While adding Deliverr this year will impact profitability in 2022, it's well worth it because it accelerates our ambitions around SFN.
So, why do we believe investors are wrong about Deliverr?
Even though our knowledge of Deliverr is limited, we know a few things about Swyft. Founded in Toronto, they're backed by Shopify and a few other investors.
Basically, what they're doing is solving the challenges around last-mile logistics. In the last mile, you have pretty much two primary business models.
One is the DoorDashes and Uber. These companies leverage the gig economy to provide same-day and next-day delivery. That's one route to go.
You also have other companies, such as Deliverr. They own warehouses and trucks, and they're doing the deliveries themselves, partnering with different retailers and significant companies to also offer same-day and next-day.
Deliverr + Swyft is a perfect match. The best as it can get, actually.
Swyft is fundamentally different because it is a software-only platform, plugged into eCommerce ecosystems like Shopify, surfacing same- and next-day shipping to merchants via 3PLs and couriers otherwise inaccessible.
This is why the combination is so good. The biggest bottleneck operating a last-mile business is density. Swyft could help Deliverr with services, including everything from location procurement inside the warehouse.
I bet Shopify will present a dozen more solutions Swyft could offer to Deliverr, so it sounds too premature to conclude anything.
Finally, we believe it is too soon to come up with any conclusion. Still, we welcome Shopify's strategy of diversifying its business and developing a first-party solution to leverage the existing backbone.
So, did you enjoy the post? Consider sharing this content with friends and colleagues. This is the only thermometer I have to consider what to write about.

Disclosure
All posts on Giro's Newsletter are for informational purposes only. This post is NOT a recommendation to buy or sell securities discussed. So please, do your work before investing your money. Giro's Newsletter makes no representation, warranty, or undertaking, express or implied, as to the accuracy, reliability, completeness, or reasonableness of the information contained in the piece. Any assumptions, opinions, and estimates expressed in the article constitute the author's judgments as of the date hereof and are subject to change without notice. Any projections contained in the information are based on several assumptions about market conditions, and there can be no guarantee that any projected outcomes will be achieved. Giro's Newsletter does not accept any liability for any direct, consequential, or other loss arising from reliance on the contents of this presentation. Giro's Newsletter is not acting as your financial, legal, accounting, tax, or other adviser or in any fiduciary capacity.