Adjusted EBITDA for the quarter came at R$199mn (+150% YoY). After adjusting for a one-off of R$11mn (goodwill from Areia Branca), adj. Ebitda was R$209mn, a touch above our expectations.
▶️Free Subscribers
Join our referral program and win prizes with every milestone you reach 💙💙💙
3R Petroleum
B3: RRRP3
Net revenue reached R$375mn (+183% YoY, in-line w/ us), as increased production and better pricing compensated for lower FX.
We welcome that 3R kept its word, and there was no negative surprise in the Opex. In the 4Q21, 3R paid $30mn in annual bonuses for the executives of the previous acquisitions and $40m transferring corporate costs.
Adjusted EBITDA for the quarter came at R$199mn (+150% YoY). After adjusting for a one-off of R$11mn (goodwill from Areia Branca), adj. Ebitda was R$209mn, a touch above our expectations.
Yet, we believe that 3R is delivering earnings below its potential. Considering the recent acquisitions, the company should expand its operations exponentially and capture a lot of low-hanging fruits, improving its operating margin.
As anticipated, net financial results came negative at R$433mn, with R$81mn as cash effect, with an operating cash flow of R$4mn.
3R had significant recognitions at R$250mn of hedge accounting and R$ 230mn of FX variation, leading to negative results in the bottom line. It was our surprise that a few analysts recognized the hedge as a negative surprise.
As we mentioned in our comment about the 1Q22, for 2022, the company has 2,7mn barrels hedged. They have a hold position in NDFs equivalent to 2mn barrels and Collars (sell call, buy put) for ~600k barrels. The weighted average cap is $65.5/bbl.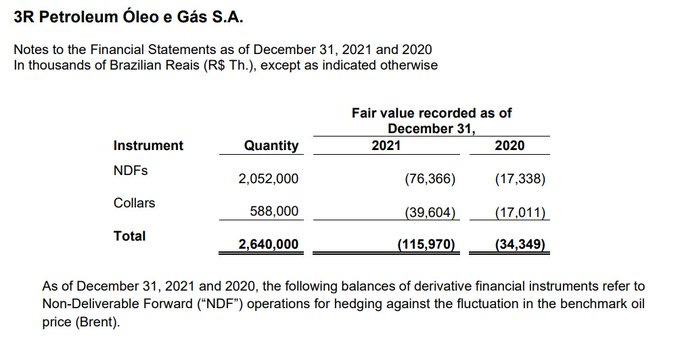 Pretty much 31,6% of my estimated production for 2022 if hedged with a $65,5/bbl cap, impacting my Ebitda 22e in ~2%. In the model, we assumed $80/bbl the reach this ~2% output.
On the operation front, the lifting costs decreased 4% sequentially, to US$9.2/boe, driven by the reduction in Macau, which reached US $6.4/boe (-12% QoQ).
We also believe that lifting costs could be reduced, both on increased production and cost management. As a result, we believe 3R will operate more efficiently and execute the overall maintenance and well reactivations to collect the desired synergy.
Finally, we highlight that 3R should keep conquering investors' trust as it keeps delivering a sequence of incremental quantitative and qualitative value with: i) focusing on organic growth, enjoying low hanging fruit from acquisitions; ii) low overhang risk; iii) arrival of a highly praised member to the BoD, and iv) Potiguar's certification.
Disclosure
All posts on Giro's Newsletter are for informational purposes only. This post is NOT a recommendation to buy or sell securities discussed. So please, do your work before investing your money. Giro's Newsletter makes no representation, warranty, or undertaking, express or implied, as to the accuracy, reliability, completeness, or reasonableness of the information contained in the piece. Any assumptions, opinions, and estimates expressed in the article constitute the author's judgments as of the date hereof and are subject to change without notice. Any projections contained in the information are based on several assumptions about market conditions, and there can be no guarantee that any projected outcomes will be achieved. Giro's Newsletter does not accept any liability for any direct, consequential, or other loss arising from reliance on the contents of this presentation. Giro's Newsletter is not acting as your financial, legal, accounting, tax, or other adviser or in any fiduciary capacity.